NASA T-Shirt - Apollo 12 Lunar Landing Patch graphic tee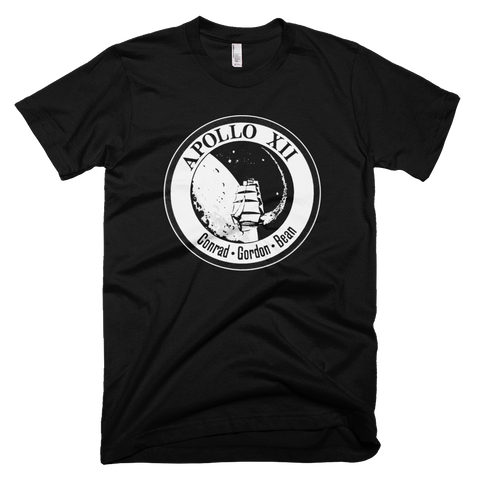 This shirt is Inspired by the Apollo 12 Lunar Landing Patch. Apollo 12 was the sixth manned flight in the United States Apollo program and the second to land on the Moon. It was launched on November 14, 1969 from the Kennedy Space Center, Florida, four months after Apollo 11. Mission commander Charles "Pete" Conrad and Lunar Module Pilot Alan L. Bean performed just over one day and seven hours of lunar surface activity while Command Module Pilot Richard F. Gordon remained in lunar orbit. The landing site for the mission was located in the southeastern portion of the Ocean of Storms.

Unlike the first landing on Apollo 11, Conrad and Bean achieved a precise landing at their expected location, the site of the Surveyor 3 unmanned probe, which had landed on April 20, 1967.  
Women's tees run Small
*
Please take a look at our size chart before ordering (which is the last image) as all shirts are made to order and we can't do exchanges based on ordering the wrong size.

Note:

XS Men's/Unisex 100% Cotton shirts
will be an American Apparel 2001
---
More from this collection